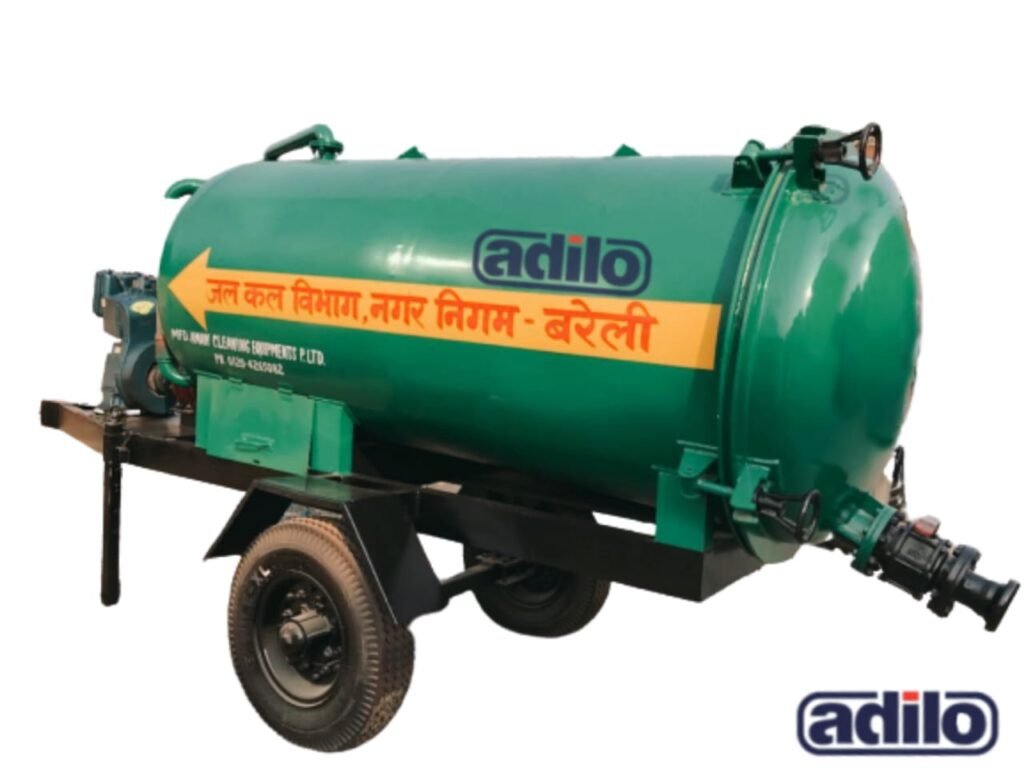 sewer suction machine 3000 ltr                                                                                    sewer suction machine 4000 Ltr
TECHNICAL SPECIFICATION FOR  TRAILER MOUNTED SUCTION MACHINE (2000,3000,4000 Ltrs)

General Description: The 2000,3000,4000 liters suction machine mounted on a suitable trailer chassis, which can be towed to the work site by a tractor. The high performance exhauster/compressor can be operated in both vacuum and pressure mode. Blowing of pressurized air/ water into the chamber dislodges the sediment solids which combine with the liquid effluent to form sludge. This is then collected into a tank by operating the system in the vacuum mode.
Chassis: Heavy Duty single axle trailer chassis shall be provided onto which equipment shall be mounted. The trailer shall have wide wheel base and a low center of gravity to ensure optimum road stability in dynamic condition. The tow bar shall be electrically welded, and fabricated out of two ISMC box sections. An all forged, spring loaded steel tow eye, and a retractable stand shall be fitted onto the tow bar.
Tank: The sludge tank of 2000,3000,6000 liters shall be fabricated from the standard structural gauge steel plates of 5 mm thick confirming of IS 2062 Grade-A. The tank shall be designed to withstand suction and over pressure operating conditions. The tank shall be provided with a3" suction/drain valve Ball/knife gate type hand lever operated fitted at the bottom on rear dished end. Sludge shall be sucked through the suction valve, which could also be used to discharge excess sewer water back into a chamber during a blow back operation. The entire tank contents can be drained under gravity/pressure through drain valve. On rear side top of the tank a full size door shall be provided for cleaning the inside sludge/mud easily. An arrangement for stowage of about 15 meters. Single hose length shall be provided. Pressure relief and vacuum relief valves shall be mounted on system to protect the tank from over pressures and collapse due to excessive vacuum respectively.
[wd_contact_form id="4″]
Save
Save