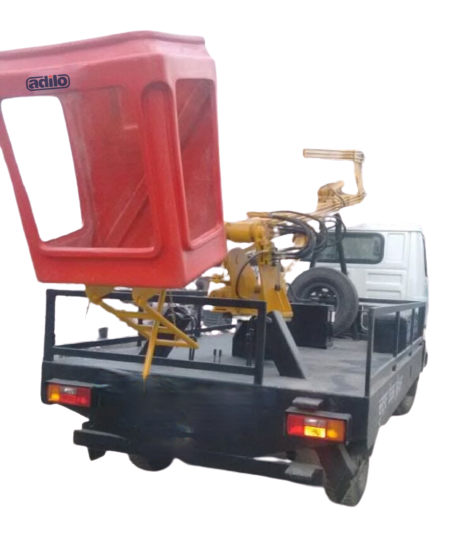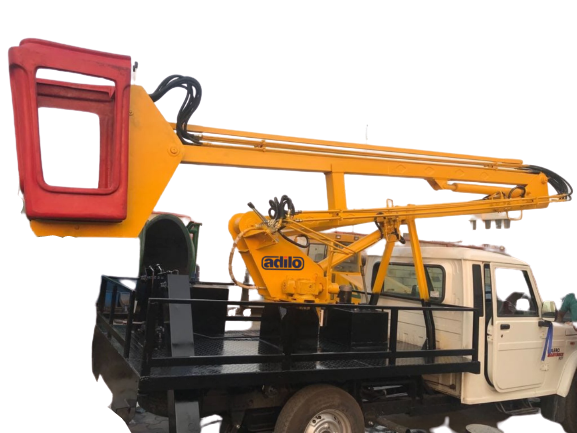 Sky Lift / Hydraulic Ladder
Sky lift is an also known as automatic lifting machine for maintenance purposes in different sections such as municipalities works, Highways, Building Glass Cleaning & Constructions Etc.
They are being manufactured  with High Strength, Reliability, Superior Quality & Better utilization for its end use.
Technical Data
Code: SSL-03
Chassis : 2 Ton, 6 Ton, 7 Ton, 9 Ton, 12 Ton, 16 Ton Etc.
Size Available: 7 Mtr, 9 Mtr, 11 Mtr, 14 Mtr, 16 Mtr or Customized .
Sheet Material: Mild Steel (IS:2062)
Thickness: 3 mm (4,5,6) Etc
Bucket: FRP Material with Single Person or Two Person lift
Cylinder:   2 Nos. for Bucket Lifting & 2 Nos. for Stabilizers (Customized)
Hydraulic Pump: 20-80 LPM
Hydraulic Motor: 50-200 CC
Hydraulic Hoses: High Pressure Hoses
Power Take Off : Suitable Power Transfer Ratio from Gear box to Drive Shaft
Hydraulic Tank: 30-70 Ltrs capacity
Operating : Sky lift is operated by help of 2 Nos. Heavy Cylinder those are mounted on Heavy Booms for lifting the Bucket on certain height by help of Control Valve.
[wd_contact_form id="4″]
Save